Distractions, nothing but distractions for the past two weeks… this hasn't been good for the advancement of my decluttering programme. Firstly Amar finally got round to tackling tiling the kitchen ( & hall ) floor. We now have a lovely new kitchen which we only started refurbishing in Oct 2010, so finished in just under 2 and a half years – not too bad really. Of course I couldn't possibly be off decluttering somewhere when I was needed at home to dispense oodles of moral support & encouragement and endless cups of tea…it was a worthwhile sacrifice though for the end result!
Then more distractions with another sudden, unexpected bout of snow & ice. -5°C and two children needing ferried to school as bien sûr no school buses were running. Normally I wouldn't have ventured out but Emma was going away on a 4 day theatre trip and Alistair was visiting a trout farm in Bergerac, two things which just couldn't be missed. Finally getting home after a 60 km white knuckle round trip negotiating bends as smooth & as slippery as a polished ice rink, I decided there really wasn't any point in getting stuck into a big tidy up project with only 7 hours left before I'd have to stop & venture out again. More time lost.
Then just when I thought I'd better make a serious effort & just get started I happened to see a nice shade of green in a magazine & thought I'd try it out on our website – what started out as just playing around with some nice warm, country colours to replace the rather clinical white ended up as a whole new facelift with new layouts,fonts,buttons,photo albums & other behind the scenes stuff which,if I'm honest, I don't know enough about. 150 pages between the French & English versions but once you start these things you just have to see them through so another 5 days lost. No great hardship though as we now have a fresh, clean website!
Seriously behind schedule now I promised myself I'd catch up over the weekend but didn't realise the Fête d'Oies (Goose festival) was on in Sarlat. Of course local events should always be supported -another day lost. It was a good day about all things geese and more … cooked, bottled, canned,foie gras, cassoulet & even live geese wandering the streets being herded by a very enthusiastic sheepdog. There was also live music,long 15 course dinners, the inevitable crêpes & plenty of apéros!!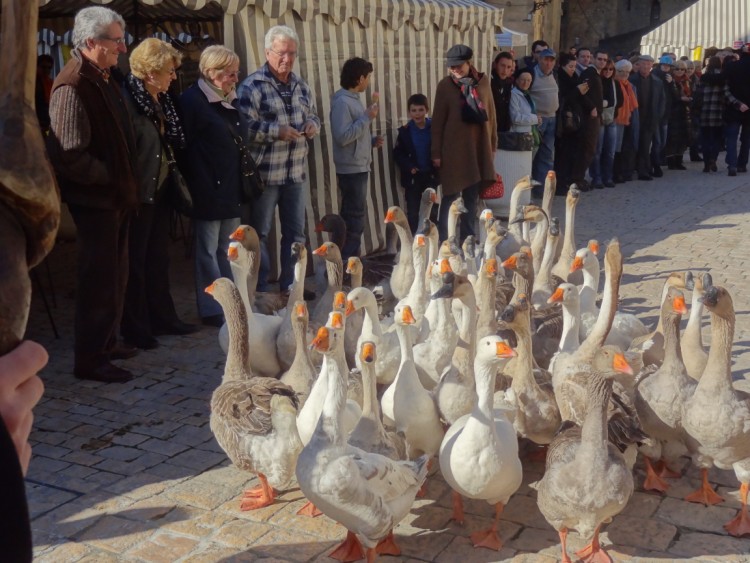 A very pleasant afternoon indeed, marred only by a very rude French woman haranguing us in one of our favourite haunts, The French Coffee Shop but affectionately called The Leopard Skin Café by me & Emma , for obvious reasons.
We had dared to sit down on some empty seats which Madame had mentally earmarked for herself. No subtle pointers like a casually draped jersey over the chair or anything, it was just in her mind and as far as she was concerned she was in the café first & that should have been enough. I tried to politely point out that we weren't psychic which only served to fuel her wrath…I  was probably supposed to vehemently defend my right to sit there and presumably go on strike to add weight to the matter & then just go & sit down & refuse to move until she went and sat down on one of the other empty seats but I just couldn't go through with it …obviously still too British.
Then finally a few sunny days spurred Amar on to chop up some big trees which had fallen down over the Winter…a back breaking task but of course it wasn't me wielding the chainsaw…I was just there for the moral support. Enough – I'll be back next week with some photos of a very tidy barn!!