It's been a while… we've been away on our annual family visit/short break & I didn't have time to post anything before we left.
It was an eventful trip including strikes, missed sailings, hospital visits, insurance claims, early dawn rises and being stuck out at sea for 34 hours in 130 kms/hr Mistral winds. No need to say more but it was all made relatively painless thanks to some very special & helpful people. We always try our very best to make sure we help all of our guests in any way we can from simply booking restaurants/tickets to tracking down lost video cameras ( yes, really we did do that once!) but our own recent experience has only strengthened our resolve – nothing will be too much trouble!!
But we survived and now signs of Spring are everywhere. It was a welcome 20°C on Thursday, perfect for collecting this season's new batch of hens and guinea fowl. As usual we went to Terrasson market to get them from Monsieur Lacoste, a fountain of all knowledge when it comes to poultry. The guinea fowl are at still at the scraggy, ugly ducking stage but will soon be sporting their intricate coat of adult feathers and the hens are already laying.
Spring also brings with it some unknown substance / plant / insect which Miss Molly is allergic to . This time of the year usually involves several vet's visits and a stiff collar which serves to stop her scratching her head as well as cramping her usual energetic style. She spends a lot of her time indoors just now wistfully staring out of the window at what might be…
In our family Spring is always heralded by Alistair's birthday. This year though Spring arrived a day early on 20th March. According to people in the know there won't be another 21st March Spring until 2102 so unless we break the World Records for longevity there will be no more en famille official Spring birthdays in our household.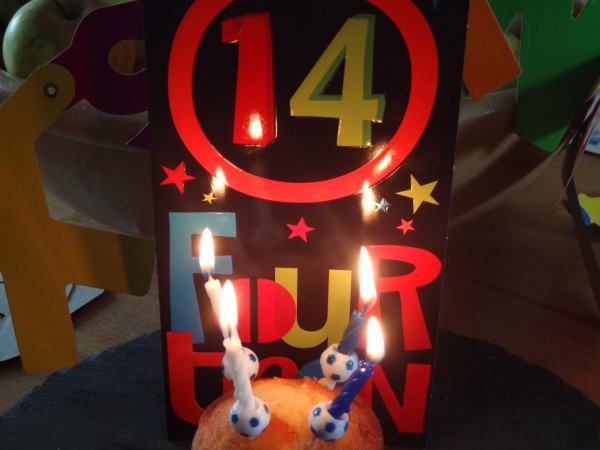 All the trees and shrubs are now in full bud. The peach, apricot, cherry and quince trees are all showing great promise…hopefully there will be no late frosts which sadly have robbed us of a lot of the fruit the past two years.
Spring also means the countdown to the first guests of the season so lots of Spring cleaning is about to begin!