Well here I am again with yet another fantastically fast 6 weeks having somehow just disappeared…either I'm really getting old or I must be enjoying myself way too much. Given the two choices I'm telling myself it's the latter! It's all been a bit of a blur really but here are the headlines in no particular order….
Cat & Kitten News ( yes, ok, I know I've taken far too many photos !)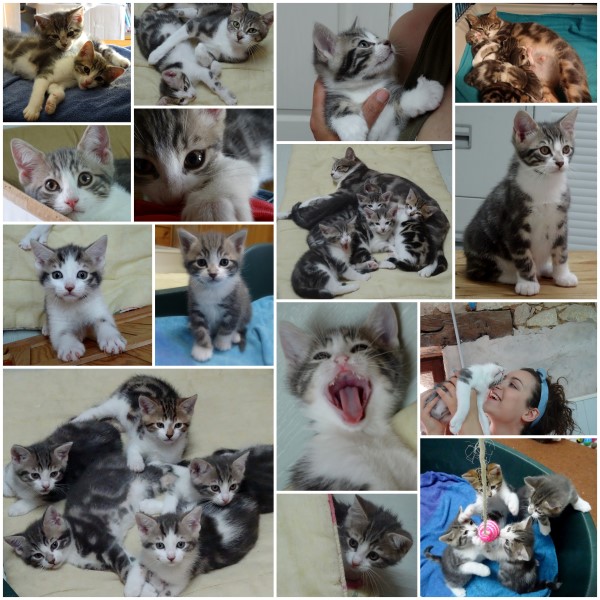 Since my last post all 5 kittens have found new homes!! The first two to leave went to Emma's singing teacher who named them Romeo & Juliette 😉  and the third one,now called Indra, went to a girl in Terrasson. With two left and Mum, Poppins (we have now finally given her a name!) getting increasingly agitated being kept indoors I took her for the op…she was just back a couple of days when someone enquired about the kittens. Amar persuaded the family that two would be much more fun than one and told them I would drop them off in half an hour. Yes I should have been jumping for joy…a perfect success story for my marketing plan!
But I was devastated. I'd got very attached to these last two, especially the littlest one and had almost got myself mentally prepared to having to keep them. Still, got to think of the greater good – I reluctantly handed them over and cried all the way home & then some! Last I heard they were named Jenny & Supette (pronounced sue-pet) and doing really well. So that's that – kitty chapter closed. I have thoroughly enjoyed the experience and feel privileged to have been there for them but once is enough. Never again. Stray cats take note – you will not get fed here so don't bother stopping by.
Meanwhile Poppins is still here,busy worming her way into the hearts of many of our guests and managing to get lots of attention while still giving Miss Molly a hard time…I am fast becoming an expert on feline aggression. This is not quite as endearing a subject as bringing up kittens and I am now doubting that this will have such a postive outcome – we'll see.
La Tour De Genèbre
Work up at La Tour de Genèbre has been advancing…. ..it's all about the little details now and that takes as long as the big stuff although much more enjoyable for me. I'd much rather be rooting out lovely linen and quirky decorative pieces than discussing U bends and angle grinders. 3 of the bedrooms are now very much taking shape which is so satisfying after months of dust & rubble.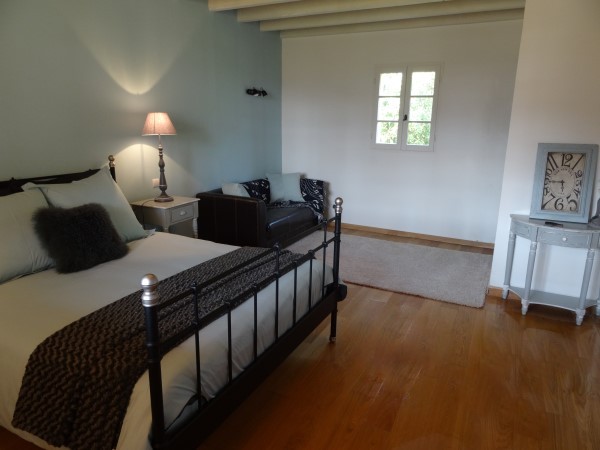 This is the downstairs ensuite bedroom which was recently used as the backdrop for Emma's latest song recording ,Stay by Rihanna. The video turned out quite well I have to say and well worth a watch & listen 😉 !!          You Tube video here!
This room also has an ensuite shower room and walk-in wardrobe!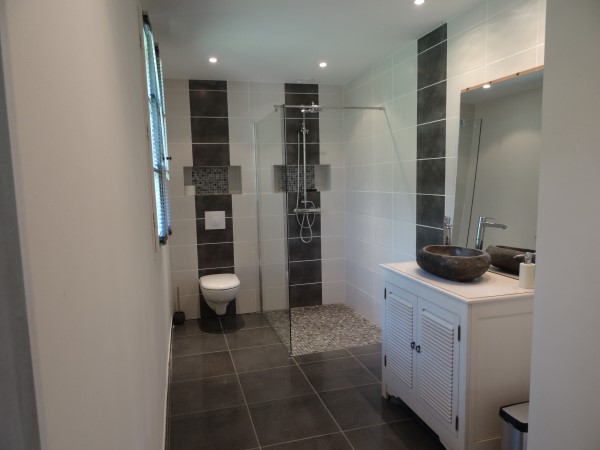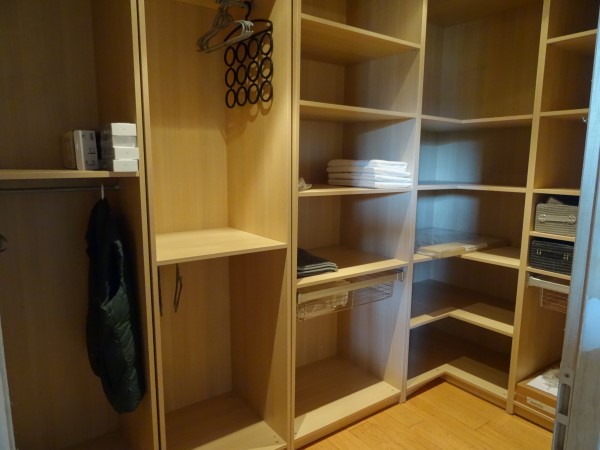 And at long last there's water in the pool! The decking still needs finished off and the stone wall still has to be built, hopefully next week but hey,it's filled!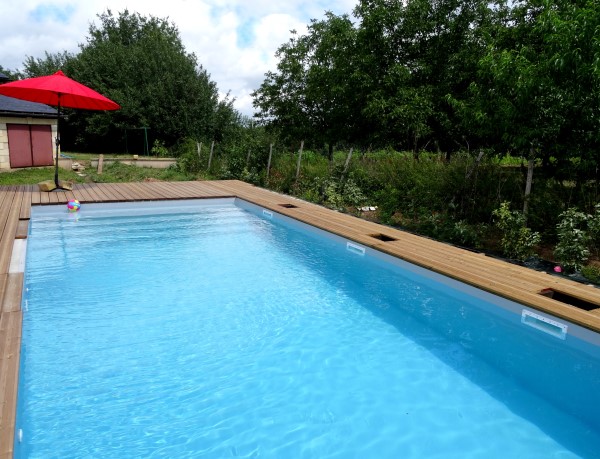 The main gate has been fitted and the kitchen is in except for two pieces of worktop which haven't arrived. Lots of paint colour mistakes which has been more than frustrating but it's all heading in the right direction!
Local Events
In July & August there seems to be a sudden surge of things to do which we don't see at any other time during the year! Night markets come to life, themed picnics and candlelit gardens spring up out of nowhere and there is a definite Summer buzz in the air…pity that this year the weather has been a bit unpredictable. Sadly we've not been out & about that much this July due to work at La Tour but we did get out to the Bastille Day celebrations. We went to Terrasson as usual – an Italian theme this year which appealed greatly to my Latin roots! A little point 'n' shoot camera set on Firework mode was never going to capture the wonder of this fantastic display but I did manage to get some "interesting" shots… all from behind the head of a rather large woman who rudely pushed her way in front of me and then proceeded to invite her other half to join her … luckily he was polite enough to decline leaving the little patience I had left intact!!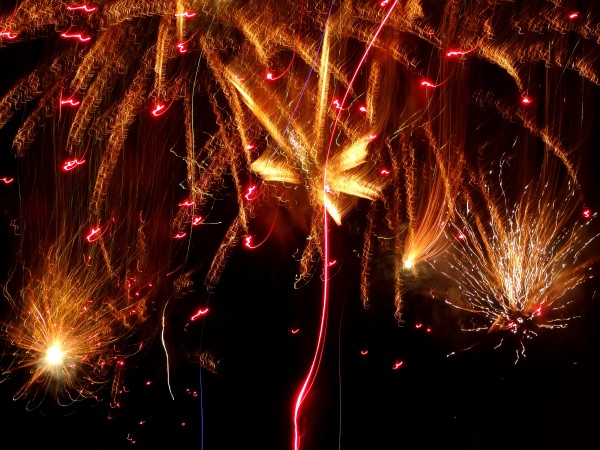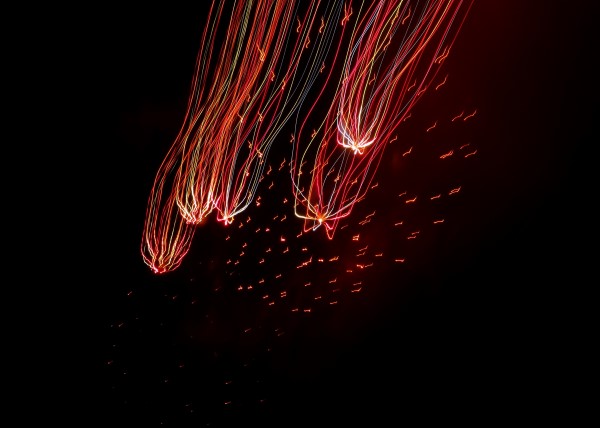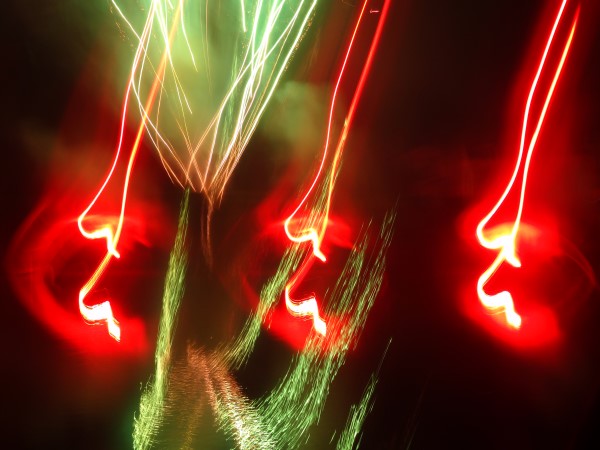 We're hoping to get out a bit more in August …there's so much to do here it would be shame not to!
A bientôt!!