A couple of weeks ago we were mulling over how to celebrate our wedding anniversary when we got an email from Les Jardins d'Eyrignac announcing that they were having their very first Garden Party to herald the start of the Summer.
We are great fans of their White Picnic evenings ( see http://dordogne-gites.info/balmy-days/) so thought it would be a perfect event for our happy occasion. We organised to go along with 4 friends – after 34 years of marriage and now empty nesters we reckoned we have more than enough opportunities for romantic dinners à deux !!
Dress code was "Country Chic" and there was a competition for the best flowery hat. This was music to my ears as I've always been a sucker for any kind of fancy dress. Just a couple of months ago the Pti Bowl, a new food takeaway business in Jayac launched the first of their music and food evenings and also ran a contest for the silliest hat. I couldn't resist the challenge even although I only just had time to cobble something together. I ended up with some half baked creation nowhere near worthy of a prize but when we got there I was the ONLY one out of 65 people with a hat on so win I did, and I managed to get myself a free dessert!
I was determined to do better this time but again time was against me and I ended up with a flowery hat with a couple of nods to family nostalgia ….but I knew it would take something more out of the ordinary to win the luxury hot air balloon tickets on offer 🙂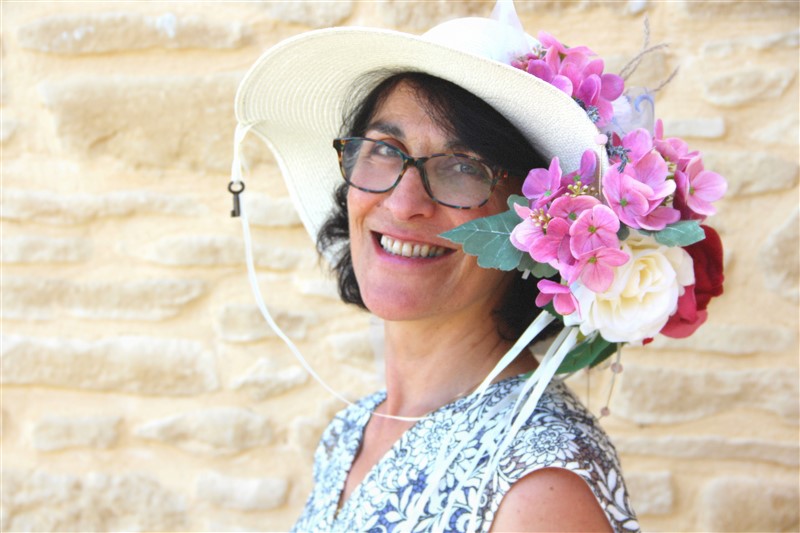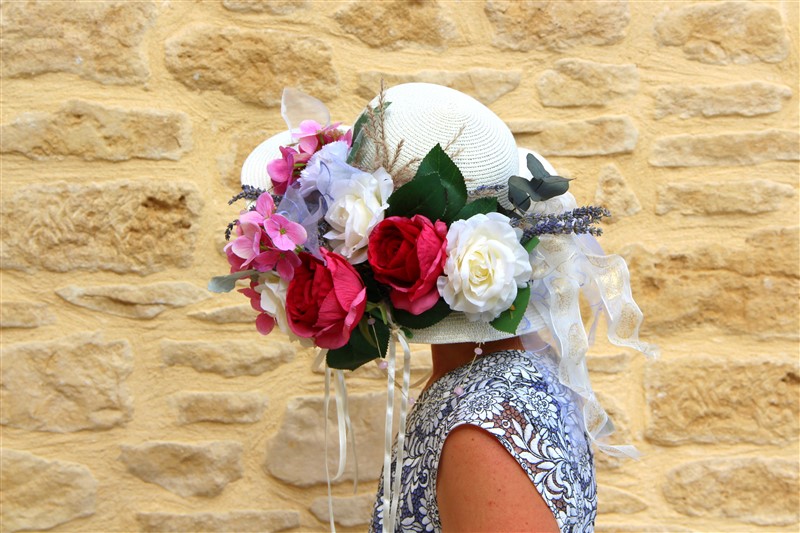 The worthy winner did just that with a fetching number made entirely out of chicken wire and flowers.
I did genuinely congratulate the lucky lady of course, while secretly vowing to think more out of the box in future 🙂 !
We always managed to do really well in our pre France days winning several awards at the local annual fancy dress parade so I need to get back into that mode!
More photos of our heyday entries here.  But I digress; back to the Garden Party!
The storms were threatening but owners, Patrick and Capucine Sermadiras were determined to go ahead with the event outdoors and we were met with a warm welcome in the sandy court yard of their home. Not so practical for those sporting open toes sandals who no doubt found themselves going home with orange feet!
Music flowed out of the rooms in the manoir while dinner was being cooked on the stylish brasero barbecue ( the next in- thing!) , one of which was being raffled at the end of the evening. Sadly, we didn't win that either.
An evening of food and chat followed and the wine flowed until the threatening storms grew closer and everyone started heading home. The gardens themselves are a true delight and until the end of October there is a display of Pierre Treilhes' amazing sculptures which are well worth a visit in their own right.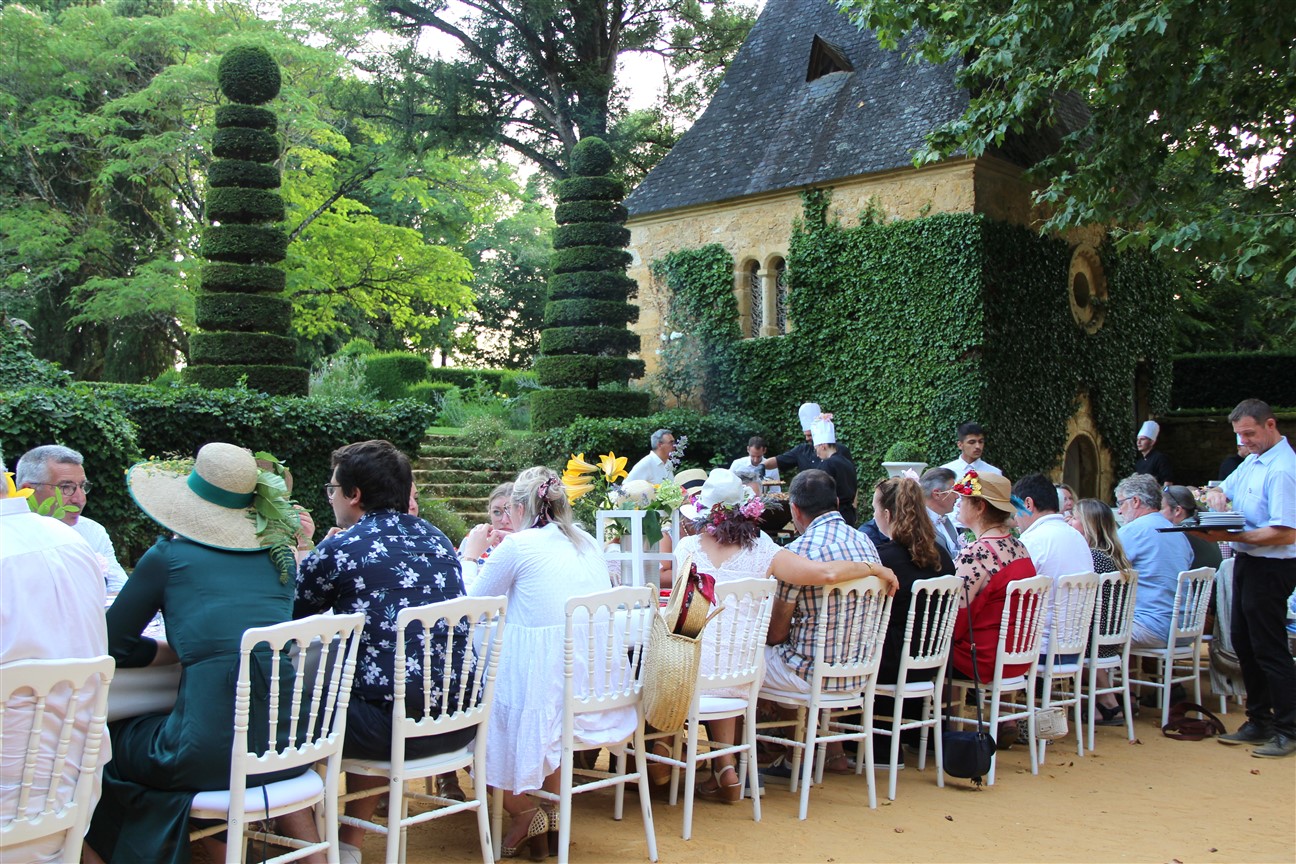 All in all a very pleasant, sophisticated evening – for more photos, have a peek over on our Facebook page. For us it didn't have quite the same charm and appeal as the white picnic though which is something really special to go to!
Here are a few of photos White Picnics gone by just to whet your appetite.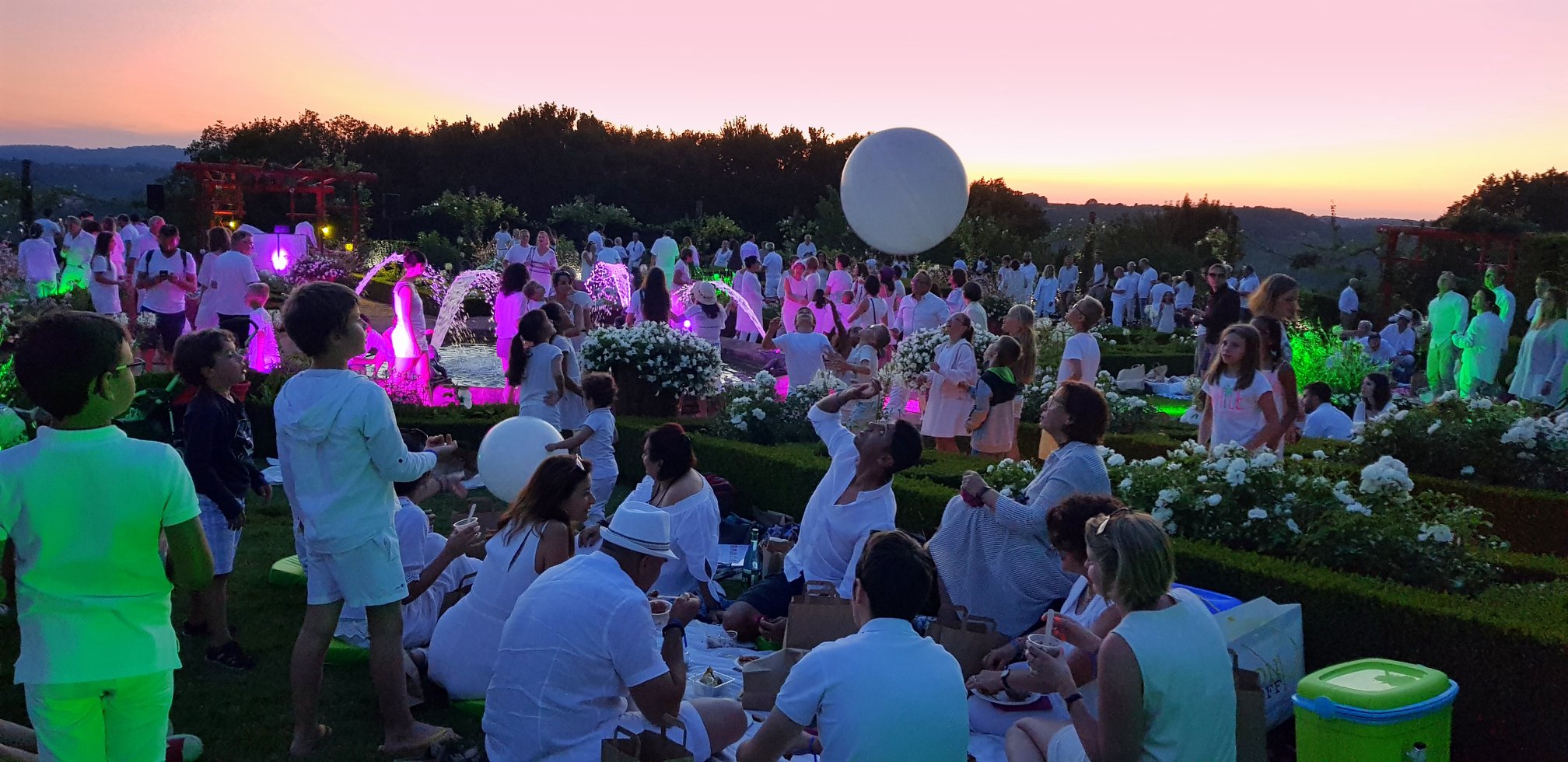 We'll be looking forward to going again this year – hopefully we might see one or two of you there!!