Well finally, after months of waiting she has arrived!! Les Crouquets now has a baby sister!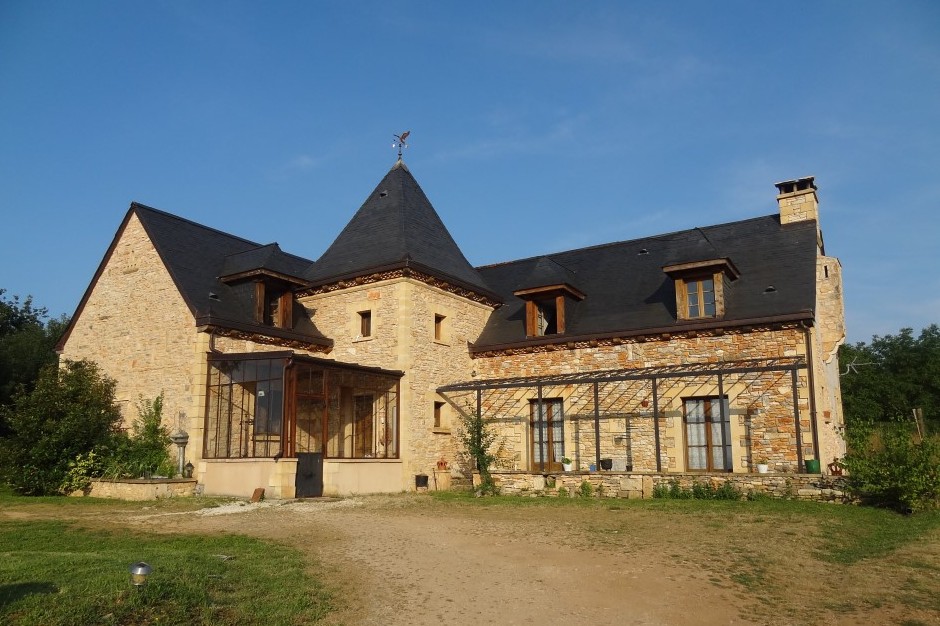 We first saw La Tour de Genèbre way back in June last year and decided almost immediately ( very unlike me!!) that she was the one for us…..our retirement pad for when we are too old & frail to keep up with the 7 gites we already have! But given that we are both still in the full flush of middle age 😉 that seems a long way off and in the meantime La Tour will be earning her keep as a Dordogne Holiday Villa, the perfect complement to our Dordogne Holiday Cottages at Les Crouquets.
This is the long term plan…
1 ground floor bedroom with ensuite shower room and dressing room
2 bedrooms with ensuite shower rooms
2 bedrooms with private shower rooms
9m x 4m heated pool
Free & unlimited access to Les Crouquets' Pitch & Putt course
Free 24 hr unlimited Wi-Fi
Library
Utility Room
Summer Kitchen
2 bedroomed separate cottage
Here is the Reality….
We signed the Compromis de Vente, the first stage of the French buying process, way back in July fully expecting to complete it all by mid October….but the inevitable bureaucracy, technical hitches and Christmas & New Year holidays thrown in meant that we only got the keys just under three weeks ago. ( Luckily this was a private sale and there was no repetition of the fiasco in my last post!!) This of course also means that we are starting off 3 months behind schedule and will now only have just over 4 months to turn it all around.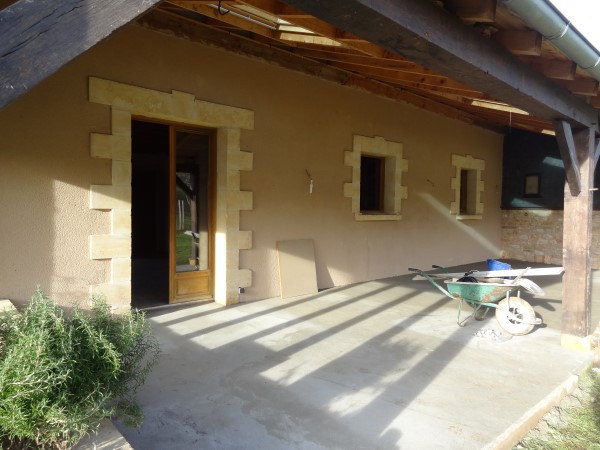 Now, there's nothing like jumping in at the deep end and of course discovering lots of hidden extras that we didn't expect to find or budget for. That's what makes these new ventures colourful and interesting n'est-ce pas?? But even we will admit that this is turning out to be a much bigger project than we first envisaged and to do it justice we have had to go back to the drawing board and rethink what is realistically achievable in the time we have left.
So we have decided to scale down for this season and block off the two ensuite rooms which were being created from scratch, starting off with 3 rooms instead…if time allows we will add a fourth.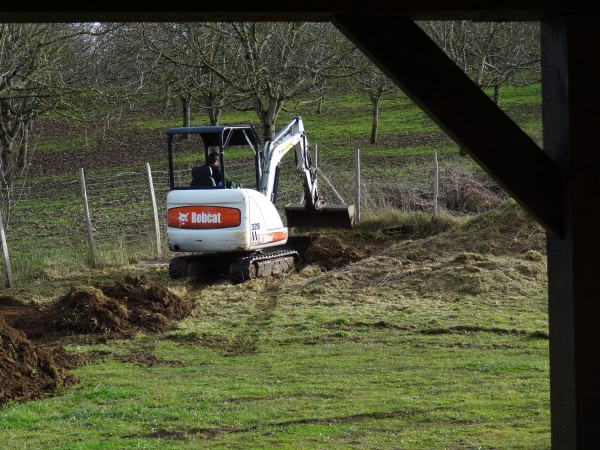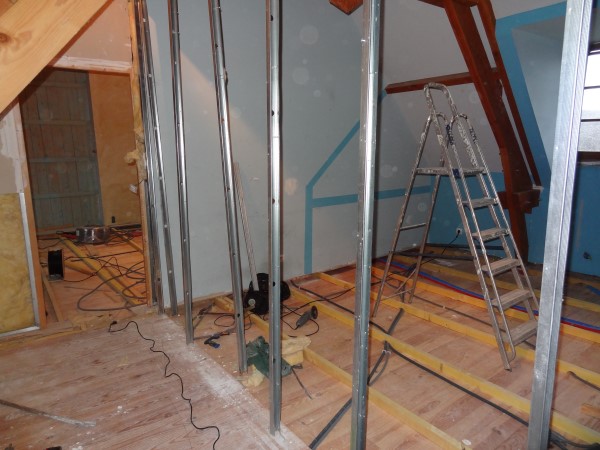 The progress so far
In the three weeks since we got the keys we have….
levelled and concreted the terrace ready for tiling
Drawn up & submitted plans for the swimming pool
Levelled all the ground behind the house
Widened the entrance ready for building a stone wall
Dug trenches for the new hedges
Started plastering the outside of the two bed cottage ( a cosmetic touch as we won't tackle the inside until next year)
Taken out the old kitchen now ready to be refitted in the utility room
Ripped up all the upstairs floors to refit evenly
Taken apart most of the upstairs walls to strengthen & insulate
Laid all the cables for UK TV
Panicked, argued a lot, discussed, panicked more then calmed down
Crashed the car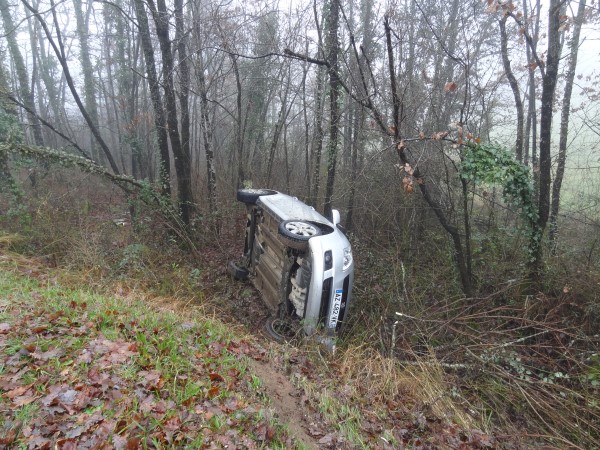 Yes, you read that correctly…I wrote off the car this week 🙁 Massive thanks to the passer by who scrambled down the hill and got me, Emma & Alistair out – miraculously unscathed. Thanks too to the wonderful police who made everything so easy without even so much as asking for my driving licence or producing the breathalyser thingy and of course to the Pompiers ( Fire Brigade/Ambulance) from Terrasson who were brilliant – couldn't help feeling just a bit smug that I'd given a handsome donation to the very same officer when he stopped by our house a couple of weeks ago with the annual calendar.
I needed a calendar like I needed a hole in my head but paid up thinking to myself that you never know when you might need their services & didn't want to be remembered as the mean one…..little did I know 😉
Anyway more updates on the house to follow soon!